---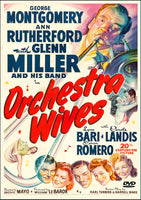 Sale
ORCHESTRA WIVES (1942) DVD Black and white Approx. 93 min. Shown in its original 4:3 aspect ratio. Playable in the US, Canada, Mexico, etc. Digitally remastered. Beautiful picture and sound. Optional English subtitles.
Screenplay by Karl Tunberg, Darrell Ware Story by James Prindle Produced by William LeBaron Cinematography by Lucien Ballard Edited by Robert Bischoff Music by Alfred Newman, Harry Warren, Mack Gordon. Directed by Archie Mayo.
Starring: Ann Rutherford, George Montgomery, Glenn Miller, Lynn Bari, Carole Landis, Cesar Romero, Virginia Gilmore, The Glenn Miller Orchestra, The Modernaires, The Nicholas Brothers, Ray Eberle, Bobby Hackett, Jackie Gleason, and Harry Morgan.
Connie Ward (Ann Rutherford) is a young woman who on the spur of the moment marries Bill Abbott (George Montgomery), a trumpet player in Gene Morrison's (Glenn Miller) swing band (Miller's character was given a name with initials that matched Miller's so that the band could use their monogrammed stainless-steel music stands). She soon finds herself at odds with the cattiness and petty jealousies of the other band members' spouses, as they accompany their husbands on their cross-country train tour. Her discomfort is exacerbated by a flirtation between Abbott and Jaynie (Lynn Bari), the band's female vocalist. When Ward eventually walks out on Abbott, their split releases so many other tensions among the musicians and their wives, that leader Morrison is forced to break up the orchestra. Ward and the band's pianist Sinjin (Cesar Romero) then work behind the scenes to reunite the band, which also produces a reconciliation between Ward and Abbott (with additional help from Connie's father Grant Mitchell).
Orchestra Wives is a 1942 American musical film starring Ann Rutherford, George Montgomery, and Glenn Miller. The film was the second (and last) film to feature The Glenn Miller Orchestra and is notable among the many swing era musicals because its plot is more serious and realistic than the insubstantial storylines that were typical of the genre.
Orchestra Wives features a treasure trove of songs by Mack Gordon and Harry Warren, the same team responsible for the hits featured in Miller's first film Sun Valley Serenade (1941) - also sold here https://www.vermontmoviestore.com/products/sun-valley . The main production number is "(I've Got a Gal in) Kalamazoo", an analogue of "Chattanooga Choo-Choo" from the first film, that features a folksy vocal and some gutsy tenor sax work by Tex Beneke, backup singing by Marion Hutton with the Modernaires, and a gravity-defying dance sequence by the Nicholas Brothers. This was nominated as Best Music, Original Song in Academy Awards: Harry Warren (music), Mack Gordon (lyrics).
George Montgomery's trumpet playing was performed by Glenn Miller and His Orchestra band member Johnny Best.
This is the film debut of the song "At Last", famously covered nearly 20 years later by Etta James (music by Harry Warren, lyrics by Mack Gordon) becoming a standard. Sung here by Lynn Bari (dubbed by Pat Friday) and Ray Eberle, who were backed by Glenn Miller and His Orchestra featuring Johnny Best (playing trumpet for George Montgomery).
Film debut of Dale Evans.
"Boom Shot", an instrumental composed by Glenn Miller and Billy May for the movie, appears, first on the jukebox in the soda shop, then later when Ann Rutherford and Harry Morgan are shown dancing, but is uncredited on the soundtrack and film credits.
Other songs include the period piece "People Like You and Me", a breakneck performance of "Bugle Call Rag" and the classic romantic ballads "At Last" (originally intended for Sun Valley Serenade) and "Serenade in Blue". The film score uses "At Last" as a musical motif laced throughout the movie in dramatic and romantic scenes.
Glenn Miller's theme song "Moonlight Serenade" from 1939 also appears over the opening credits.
Songs include:
Serenade in Blue
Chatanooga Choo-choo
Moonlight Serenade
Bugle Call Rag
(I've Got a Gal in ) Kalamazoo
At Last (sung by Ray Eberle and Pat Friday for Lynn Bari)
People Like You and Me
Boom Shot