---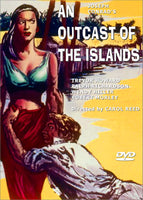 Sale
Outcast of the Islands 1951 DVD (Region 1 - Playable in North America - The US, Canada, Mexico, etc.) Complete, Uncut. Re-mastered. Widescreen. B&W.
Starring: Trevor Howard (in arguably his finest performance), Ralph Richardson, Wendy Hiller, Robert Morley, Kerima, Wilfrid Hyde-White, Betty Ann Davies. Written by Joseph Conrad (novel) William Fairchild. Directed by Carol Reed.

Peter Willens (Trevor Howard), an unscrupulous trading-post operator in the Far East, is suddenly dismissed from his post. He goes to his old friend Captain Lingard (Ralph Richardson), a salty sea captain, who takes Willens to another trading post he operates with his partner Mr. Almayer (Robert Morley) who, in turn, is married to Lingard's adopted daughter (Wendy Hiller). Once in the islands, Willens finds working with the pompous, overbearing Almayer stifling and he is soon in conflict with his nominal boss, while Mrs. Almayer finds the rebellious Willens attractive. He alienates her by falling in love with a beautiful native girl, Aissa (Kerima). Playing on this attachment, a local politician uses Willens to betray the trading post to competitors, but Willens is himself betrayed in the end and exposed. Willens and Aissa flee up river where Captain Lingard must go deep into the darkest heart of the jungle to find them.
Director Carol Reed directed a stellar cast in this brilliant and classic adaptation of Joseph Conrad's novel.
"Even her Love was Primitive! UNTAMED! UNASHAMED! MERCILESS!"