---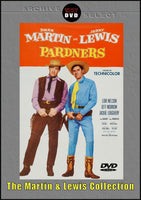 Pardners 1956 DVD Color (Region 1 - Playable in North America - The US, Canada, Mexico, etc.)
Starring: Jerry Lewis, Dean Martin, Slim Mosely Sr., Wade Kingsley Sr., Lori Nelson, Jeff Morrow, Agnes Moorehead, Lon Chaney Jr., Lee van Cleef, Jack Elam, Bob Steele. Written by Sidney Sheldon, Jerry Davis, Mervin J Houser Directed by Norman Taurog

This Dean Martin-Jerry Lewis romp is loosely based on the 1936 Bing Crosby film "Rhythm on the Range". Set around 1910, the film stars Lewis as the pampered son of female tycoon Agnes Moorehead. Yearning to return to the Wild West where his father was a famed peacekeeper, Lewis purchases a prize bull, destined for the ranch inherited by rodeo star Dean Martin. It so happens that Martin and Lewis' late fathers were "pardners", so Martin takes it upon himself to protect Lewis from the various and sundry tough hombres in the region. Through a series of bizarre plot convolutions, Lewis gains a reputation as a rootin' tootin' gunslinger, and in his hubris he decides to round up a gang of outlaws headed by Jeff Morrow. As a result, he nearly gets himself blown to smitherines, but Martin shows up in the nick of time to rescue Lewis and help him capture the bad guys.
Pardners ends with Dean Martin and Jerry Lewis turning to the camera and promising that they'll keep on making pictures for their faithful fans; ironically, the team was breaking up even while the cameras were turning.
Part of the Martin and Lewis Collection - buy more than one item from the collection and receive a 10% discount!
"You'll Ride With 'Em! Shoot With 'Em! Laugh With 'Em! In The Biggest Bestest Funniest Most Musical Western Yet!"