---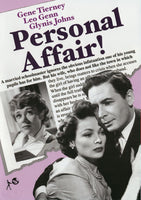 Personal Affair (1953) DVD (Region One - Playable in the US, Canada, Mexico, etc.) Black and white Approx. 77 min. Beautifully remastered print. Newly repriced!

Starring: Glynis Johns, Leo Genn, Gene Tierney, Walter Fitzgerald, Pamela Brown, Megs Jenkins and Michael Hordern
Directed by Anthony Pelissier, Produced by Antony Darnborough, Written by Lesley Storm from her play "A Day's Mischief", Music by William Alwyn, Cinematography Reginald H. Wyer, Edited by Frederick Wilson
This gripping British thriller made by the Rank Studios tells the story of forbidden love between teacher and pupil in a sleepy town in 1950's England.
Barbara Vining (Glynis Johns) is an impressionable teenage schoolgirl who has her first crush on her handsome Latin teacher Stephen Barlow (Leo Genn). Barlow meanwhile is married to a beautiful but insecure American Kay (Gene Tierney). When Barbara disappears after a late night tutoring session at the Barlow home suspicion abounds. The pressure builds on Barlow as the Police launch an investigation and he is forced to step down from his post as teacher. The strength of Barlow's marriage is tested to the full as are the inter-relationships within the Vining family. Will Barbara be found and how will the respective families cope with the highly charged outcome?