---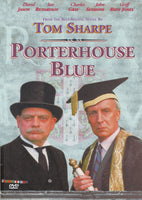 Porterhouse Blue (1987) DVD Playable on all standard North American (US, Canada, Mexico, etc.) DVD players Color Approx. 194 min. Shown in its original theatrical aspect: 1.33 : 1.

Starring: David Jason, Ian Richardson, John Sessions, Charles Gray, Griff Rhys Jones, Paul Rogers, John Woodnutt, Paula Jacobs, Barbara Jefford, Ian Wallace Written by Malcolm Bradbury based on the novel by Tom Sharpe Directed by Robert Knights
For more than 500 years, Porterhouse College has cherished tradition above all else. Unfortunately, its traditions mostly involve decadent banquets, drunkenness, and undistinguished scholarship. Enter Sir Godber Evans (Ian Richardson), a new master hell-bent on reform. Of course, the dinosaurs on the faculty resist him at every turn. But Head Porter Skullion (David Jason) emerges as Sir Godber's most formidable foe -- a self-appointed guardian of Porterhouse's most hallowed traditions, with plenty of tricks up his tweedy sleeve.
Based on Tom Sharpe's uproarious bestseller, "Porterhouse Blue" crackles with dry wit and bristles with satirical barbs. It punctures British pomposity in Oxbridge and beyond, taking dead aim at dotty dons, stodgy aristocrats, hypocritical reformers, and TV reporters. Winner of an International Emmy and two BAFTA Awards (including David Jason for Best Actor), Porterhouse Blue rewards viewing after viewing with fresh laughter. The excellent performances rise from a low boil to a furious pitch of indignation, desperation, and revenge. Anglophiles will enjoy the freewheeling bite of the humor, which compares with Evelyn Waugh's caustic wit. The unusual soundtrack, by a-cappella group the Flying Pickets, adds to the miniseries' unique flavor.
 A hilarious romp through the hallowed halls of British academia!