---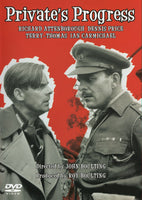 Private's Progress (1956) DVD (Region One – Playable in US, Canada, Mexico, etc.) Black & white Beautifully re-mastered. Approx. 96 min.
Starring: Richard Attenborough, Dennis Price, Terry-Thomas, Ian Carmichael, Peter Jones, William Hartnell, Thorley Walters, Jill Adams, George Coulouris, Christopher Lee
Written by Frank Harvey and John Boulting based on "Private's Progress" by Alan Hackney. Music by John Addison. Cinematography by Eric Cross. Edited by Anthony Harvey. Produced Roy Boulting. Directed by John Boulting
 As World War II settles over England, university student Stanley Windrush (Ian Carmichael) receives his call-up. During training, Windrush is plunged into a thoroughly unfamiliar world, with his leading officer, Maj. Hitchcock (Terry-Thomas), more apt to be found in a pub than on the base. There's also Pvt. Percy Fox (Richard Attenborough), a cunning working-class type always on the make, and the cold and crafty Bertram Tracepurcel (Dennis Price). All are being trained for an unusual mission inside Germany.
The film was the second most popular movie at the British box office in 1956.
The New York Times wrote, "The Boultings have come up with an ingenious story and injected hilarious moments."