---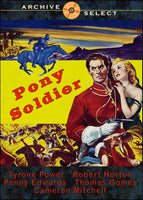 Pony Soldier 1952 DVD (Region One - Playable in North America - The US, Canada, Mexico, etc.) Color Beautifully restored widescreen print.
Starring: Tyrone Power, Robert Horton, Penny Edwards, Thomas Gomez, Cameron Mitchell. Written by Garnett Weston and John C. Higgins. Directed by Joseph M. Newman. Music by Alex North. Digitally restored.
 An officer with the Royal Canadian Mounted Police, Duncan MacDonald (Tyrone Power), must intercept a hunting party of Cree Native Americans who have left their reservation to track buffalo in the Montana region. MacDonald, along with his guide, Natayo Smith (Thomas Gomez), meets up with the Native Americans, trying to convince them to return to the reservation. But Chief Konah (Cameron Mitchell) complicates matters when he attacks a wagon train and takes two hostages.