---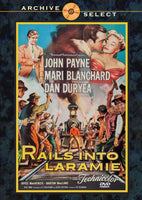 Sale
Rails into Laramie (1954) DVD Approx. 78 Min. (Region One - Playable in the US, Canada, Mexico, etc.) Color Shown in original aspect ratio 1.37:1 Beautifully restored print.
Starring: John Payne, Mari Blanchard, Dan Duryea, Barton MacLane, James Griffith, Lee Van Cleef, George Chandler, Charles Horvath. Written by D.D. Beauchamp, Borden Chase, Joseph Hoffman. Directed by Jesse Hibbs.
In the Wyoming territory during 1869, Union Army Sgt. Jefferson Harder (John Payne) is sent to Laramie to find out why all progress on the railroad has stopped. He finds drink plentiful not only in town, but at the railhead, with an old pal of his (Dan Duryea) behind it all.  The two friends ultimately tangle, but the soldier unexpectedly finds an ally in an ex-dance hall girl (Mari Blanchard) who just happens to be the partner of his new nemesis.
"The saga of the man who blazed the trail for the iron horse across the wide frontier!"