---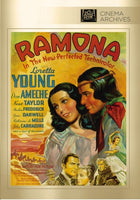 Sale
RAMONA 1936 DVD (Region 1 - Playable in North America - The US, Canada, Mexico, etc.) Technicolor 84 minutes
Starring: Loretta Young, Don Ameche, Kent Taylor, Jane Darwell    Katherine DeMille. Written by Lamar Trotti, based on the beloved novel by Helen Hunt Jackson. Directed by Henry King.
Ramona is the tempestuous story of a half-Native American girl (Loretta Young), raised by a wealthy family whose son (Kent Taylor) is in love with her against his family's wishes. Despondent, Ramona falls in love with a Native American (Don Ameche) employed by the household. Shown in 4:3 full frame presentation.
Ramona is based on Helen Hunt Jackson's 1884 beloved novel Ramona.
"Loretta Young, the most appealing of the screen's ladies, photographs beautifully in natural colors and runs the emotional gamut gamely. Chromatically, the picture is superior to anything we have seen in the color line. It has achieved warmth and vigor without subjecting its beholders to a constant optic bombardment." – The New York Times