---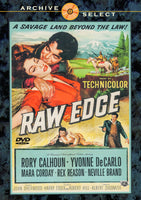 Sale
Raw Edge (1956) DVD Widescreen Approx. 73  Min. (Region One - Playable in the US, Canada, Mexico, etc.) Color Shown in original aspect ratio 1.85:1 (16:9 enhanced) Beautiful restored print.
Starring: Rory Calhoun, Yvonne De Carlo, Rex Reason, Neville Brand, Herbert Rudley, Mara Corday, Emile Meyer, John Gavin, Robert Wilke, William Schallert, Ed Fury. Written by Harry Essex, Robert Hill, William Kozlenko (story). Directed by John Sherwood.
In 1842, before law and order has come to Oregon, a wealthy man named Montgomery (Herbert Rudley) makes the rules, including one that any unmarried woman must go with whichever man puts in a claim for her. (After all, there is a 1000:1 men to women ratio). After his wife Hannah (Yvonne De Carlo) is attacked by an unseen man in the barn, Montgomery uses the opportunity to blame his rival, Dan Kirby (John Gavin), and lynch him.
Dan's wife, an Indian woman named Paca (Mara Corday), races to the Montgomery ranch to enlist the help of his wife, Hannah to save her husband. Hannah and Paca return to the Kirby's ranch but are unable to prevent his murder on Montgomery's command.
Dan Kirby is lynched, starting a stampede to claim his half-Indian wife Paca. Trouble starts with the local tribe, but worse is in store when Dan's tough brother Tex (Rory Calhoun) rides in. The zeal of Montgomery's men to protect him from Tex is tempered by their lust for Hannah, who'd be his widow.
It marked the movie debut of John Gavin under the name "John Gilmore".
"Her love ... for the first man to claim it ! The strongest ... the boldest ... or the fastest with a gun !  A Savage Land Beyond the Law!"