---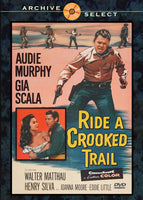 Sale
Ride a Crooked Trail (1958) DVD
Color Approx. 1 hour 28 minutes Shown in its original 2.35:1 aspect ratio Playable in the US, Canada, Mexico, etc. Digitally remastered. Beautiful picture and sound.
Starring: Audie Murphy, Gia Scala, Walter Matthau, Henry Silva, Joanna Cook Moore, Eddie Little, Mary Field and Leo Gordon. Screenplay by Borden Chase, Story by George Bruce, Produced by Howard Pine, Cinematography by Harold Lipstein, Edited by Edward Curtiss, Directed by Jesse Hibbs.
During his escape, bank robber Joe Maybe (Audie Murphy) sees famous US Marshal Jim Noonan, who is searching for him, stumble and fall off a cliff to his death. He enters a town on the dead man's horse, where he is mistaken for Noonan. Maybe decides to hide behind the badge for a while, but soon raises the suspicions of the local law enforcer, Judge Kyle (Walter Matthau). His real identity is nearly blown when the riverboat brings to town Tessa Milott (Gia Scala), a past acquaintance of Maybe's who calls him by his surname in front of the judge. Thinking quickly, Joe says she called him "Baby," and did this because she is his wife.
She must now pretend she is his wife to avoid further scrutiny from Kyle, but this in turn causes problems with her current boyfriend, bandit leader Sam Teeler (Henry Silva). The "couple" moves into a house and are well respected in town, although their secrecy is nearly compromised by a young orphan boy who expects "the marshal and his wife" to adopt him. Tessa struggles between her loyalty to her real criminal boyfriend and her growing feelings for Maybe, but each man wants to rob the town's bank.
They pinned a Marshal's star on his outlaw heart...and then used it as a target!