---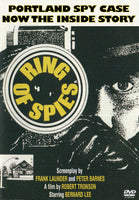 Ring of Spies (AKA "Ring of Treason" AKA "Shadow of Treason") DVD (Playable in the US, Canada, Mexico, etc.) B&W Shown in original aspect ratio 1.66.1 Run time approx. 86 min. Beautifully restored print, presented here in a brand-new digital transfer.

Starring: Bernard Lee, William Sylvester, Margaret Tyzack, Thorley Walters, David Kossoff, Nancy Nevinson. Written by Frank Launder and Peter Barnes. Directed by Robert Tronson.
There have always been spies who have pried for patriotism, for religion, for love or… for money. This intriguing drama is based on the true story of the Portland Spy Ring, an unlikely Soviet operation active in southern England from the late 1950s until January 1961 when the core members were arrested. Directed by TV drama veteran Robert Tronson, RING OF SPIES stars Bernard Lee (best known as James Bond's "M" ) William Sylvester, Thorley Walters and BAFTA winners Margaret Tyzack and David Kossoff. It is presented here in a brand-new digital transfer.
An antiquarian bookseller and his wife; a disgruntled, hard-drinking naval clerk and the lonely secretary he recruits; a polished Soviet agent who assumes the identity of a dead Canadian citizen are all the players in a familiar Cold War story of hidden cameras, dead-letter drops and a long-range radio calling Moscow Central. A duel between Soviet intelligence and British counter-espionage, and a trade in deadly secrets directed from a bungalow in suburban Ruislip, hidden for years from unsuspecting neighbors and British spy catchers.
Henry Houghton (Bernard Lee) is the unlikely navy clerk who loathes his work and feels that his life lacks luster. So when a secret agent (William Sylvester) asks him to steal military secrets in exchange for a hefty fee, Houghton agrees. Before long, the newly minted spy is seducing a high-ranking secretary (Margaret Tyzack) to solicit classified files. This thrill-seeking couple relish their ill-gotten gains until the British government begins to close in.
The film is based on the actual events of the Portland Spy Ring trial in the U.K.
"A finely woven tale of espionage more exciting than fiction. Step by step, the story of the Spy Ring that surprised the world!"