---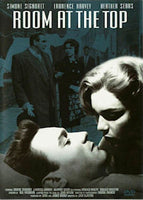 Sale
Room at the Top 1959 DVD (Region 1 - Playable in North America - The US, Canada, Mexico, etc.) Widescreen. Black & White. New lower pricing!

Starring: Laurence Harvey, Simone Signoret, Heather Sears, Ian Hendry, Mary Peach, Hermione Baddeley, Donald Wolfit, Donald Houston. Written by Neil Paterson, John Braine, Mordecai Richler. Directed by Jack Clayton.

This brilliant British drama, with potent social commentary and a superb cast, portrays the story of a young man from a small mill town who claws his way to the top - any way he can! Laurence Harvey is the 'angry young man' who sacrifices his true love for the steamy Simone Signoret and marries the daughter of the factory boss, just so he can get ahead. Signoret was imported from France to add the sex appeal and won herself an Academy Award for Best Actress for her efforts. Harvey was also nominated for his performance as the ruthlessly ambitious Joe Lampton, his most famous role. Neil Paterson also received an Oscar for Best Screenplay.
"A powerful adaption of the novel by John Braine with skillful direction from newcomer Jack Clayton."
Region One. North American Format. Best In The Web.
"The Triple Award Winning Film of John Braine's SCORCHING Best Seller! A Motion Picture So Frankly Physical... So Boldly Unashamed... We Recommend It to Adult Audiences Only!
It never happened on the screen quite this way before... "