---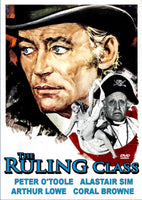 The Ruling Class (1972) DVD Color (with optional English subtitles) Shown in original widescreen aspect ratio Approx. 154 min. Region One - Playable in the US, Canada, Mexico, etc. Beautiful print!
Starring: Peter O'Toole, Michael Bryant, Nigel Green, Harry Andrews, Hugh Owens, Coral Browne, Alastair Sim, Graham Crowden, James Villiers, Peter Barnes, Arthur Lowe, William Mervyn, Nigel Green Written by Peter Barnes. Directed by Peter Medak.
Peter O'Toole gives a tour de force performance as Jack, a man "cured" of believing he's God, only to become Jack the Ripper incarnate. Based on Peter Barnes' irreverent play, this darkly comic indictment of Britain's class system peers behind the closed doors of English aristocracy. Insanity, sadistic sarcasm, and black comedy... a must have!!
(The film was trimmed to 148 minutes for US release and was later cut to 141 minutes in order to fit on one videocassette (the longest available at the time). This DVD contains the original 154 min. version of the film.)
"How do you know you're... God? Simple when I pray to Him I find I'm talking to myself."
A customer review: "This movie has EVERYTHING!!!!! I'm serious. Does it have musical numbers? Yes, it does. Beautiful costumes, fabulous sets, serial killers, witty dialogue, burlesque striptease, opera and aristocracy, romance and insanity, jealousy and drama, comedy and theology? Yes, yes, yes!!! Oh, why couldn't there be more films like this? Peter O'Toole is just gorgeous, as well. This is an absolute MUST-SEE for anyone with an interest in film, England, mental disorders, or dancing the Varsity Rag."