---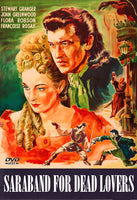 Saraband For Dead Lovers (1948) DVD (Region One – Playable in US, Canada, Mexico, etc.) Color beautifully remastered Shown in original aspect ratio 1.37:1 Approx. 92 min.
Starring: Stewart Granger, Joan Greenwood, Flora Robson, Françoise Rosay, Frederick Valk, Peter Bull,  Anthony Quayle, Michael Gough, Megs Jenkins. Written by John Dighton and Alexander Mackendrick Music by Alan Rawsthorne Cinematography by Douglas Slocombe Edited by Michael Truman Produced by Michael Balcon and Michael Relph Directed by Basil Dearden
In 1682, Sophie Dorothea (Joan Greenwood) has an arranged marriage at age sixteen to Prince George Louis of Hanover (Peter Bull) and both parties are very unhappy with this political tryst.
She seeks solace from dashing Count Philip Konigsmark (Stewart Granger) when her husband Prince George Louis, later to become King George I of Great Britain, wants nothing to do with her. The lovers are brought down by a jealous Countess Platen (Flora Robson), Philip's previous lover.
This was the first Ealing Studios movie to be shot in color.
"A Romance that rocked the Thrones of Kings."