---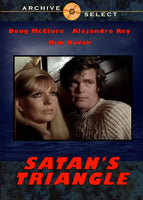 Sale
Satan's Triangle (DVD) 1975 Made for TV movie Color Digitally remastered! Beautiful picture and sound.
Starring: Kim Novak, Doug McClure, Alejandro Rey. Written by William Read Woodfield. Directed by Sutton Roley
A USCG pilot and his winchman Haig (Doug McClure) answer an SOS call at sea and arrive at a derelict schooner called the Requoit. Haig lowers himself to the ship, where he finds three dead bodies along
with one survivor, Eva (Kim Novak), cowering in the cabin. As the pilot attempts to retrieve Haig and Eva with a rescue basket, the line breaks, plunging the two into the ocean. After they swim back to the boat, the pilot informs Haig that he must return to base because his fuel is low. Eva and Haig spend the night on the boat, during which time she recounts the story of the deadly storm in Satans Triangle!
"Obscure TV-Movie of the Week 'Satan's Triangle', airing January 14, 1975, has garnered a well-deserved cult following the likes of few movies. Find it and see and when you do – you will NOT be disappointed! This new restoration is awesome." – TV Revue (Global)