---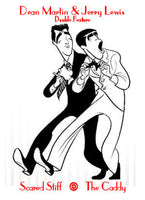 Sale
Scared Stiff and The Caddy - Martin & Lewis Double Feature 1953 DVD (Region 1 - Playable in North America - The US, Canada, Mexico, etc.) New, lower price.

SCARED STIFF (1953) Dean Martin, Jerry Lewis, Lizabeth Scott, Carmen Miranda, George Dolenz, Dorothy Malone. Directed by George Marshall. Black and White.
Fleeing a murder charge, a singer and a busboy (Martin & Lewis) wind up on a spooky Carribean island inherited by heiress (Scott).
THE CADDY (1953) Dean Martin, Jerry Lewis, Donna Reed, Barbara Bates Directed by Norman Taurog. Black and White.
Harvey Miller (Lewis) is an expert with his golf club, except when he tries to play in front of a crowd -- then he completely loses control. With his mind set on getting into the PGA, he latches onto Joe Anthony (Martin), a stylish gadabout. Harvey teaches Joe everything he knows about the game, and when Joe enters a tournament, Harvey does too -- as his caddy. As Joe's game improves, his ego grows, and he begins to think Harvey is useless and wants to take the tour alone. The Caddy introduced the Dean Martin classic "That's Amore" to the world and features a bevy of real life professional golfers in cameo roles including Sam Snead, Byron Nelson, and Julius Boros.
Part of the Martin and Lewis Collection - buy more than one item from the collection and receive a 10% discount!