---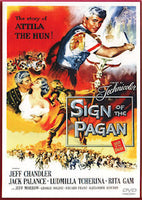 Sign of the Pagan 1954 DVD (Region 1 - Playable in North America - The US, Canada, Mexico, etc.) Full Frame. Color.
Starring: Jeff Chandler, Jack Palance, Rita Gam, Ludmilla Tcherina. Written by Barre Lyndon and Oscar Broadney. Directed by Douglas Sirk.
Jeff Chandler may be the top-billed star, but this film epic belongs to Jack Palance, cast as no less than Attila the Hun. As Attila's hordes advance upon Rome, noble centurion Marcian (Chandler) mounts a counteroffensive. Alas, the Scourge of God cannot be stopped by weaponry or sheer brute strength. No, Attila can be halted in his tracks only by the hand of God Himself. Through a deft combination of historical fact and movie magic, this is precisely what happens. Ballerina Ludmilla Tcherina, co-stars as Marcian's lady love, while Rita Gam is sublimely cast as Attila's long-suffering daughter.
Also appearing as Attila's slave bride is Allison Hayes, some three years away from her starring turn in Attack of the 50 Foot Woman. It all spins together into great fun, high adventure, and galvanizing Technicolor spectacle.