---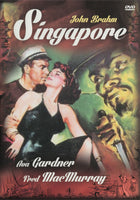 Sale
Singapore 1947 Black and White Approx. 80 min. Playable in the US Beautifully re-mastered print. Shown in its original theatrical aspect: 1.33 : 1. Newly priced!

Starring: Fred MacMurray, Ava Gardner, Thomas Gomez, Roland Culver, Richard Haydn, Spring Byington, Porter Hall, George Lloyd. Screenplay by Seton I. Miller, Robert Thoeren Story by Seton I. Miller, Produced by Jerry Bresler Directed by John Brahm
After the war, Matt Gordon (Fred MacMurray) returns to Singapore to retrieve a fortune in smuggled pearls. Upon his arrival he reminisces in flashback about his prewar fiancée, alluring Linda (Ava Gardner), and her disappearance during the Japanese attack. But now Linda resurfaces...with amnesia and married to rich planter Van Leyden (Roland Culver). Meanwhile, sinister fence Mauribus (Thomas Gomez) schemes to get Matt's pearls.