---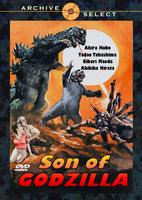 Sale
Son of Godzilla (Original title: Kaijûtô no kessen: Gojira no musuko) 1967 Color Widescreen Japanese with optional English subtitles. Playable in the US. Shown in its original widescreen theatrical aspect. Beautiful print!
Starring: Tadao Takashima, Akira Kubo, Beverly Maeda (as Bibari Maeda), Akihiko, Yoshio Tsuchiya, Kenji Sahara. Written by Shin'ichi Sekizawa and Kazue Shiba. Directed by Jun Fukuda.
A plane spots Godzilla heading off to an island in the South Seas named Sollgel, with the monster seemingly being called there. Reporter Goro Maki (Akira Kubo) stumbles on Sollgel and finds scientists conducting weather experiments to feed a growing global population. He soon discovers that the experiments have mutated mantises in giants named Kamacuras. As Maki explores the island, he finds a cast away woman named Saeko (Beverly Maeda as Bibari Maeda) as the weather experiments inadvertently cause the mantises to grow even bigger. The mantises soon uncover a giant egg which contains a defenseless infant that is rescued by Godzilla. Maki and Saeko soon observe Godzilla adopt the infant as the monster learns to care for the child and raise it as one of his own.
"Japan's Greatest Foe Delivers an Heir!"