---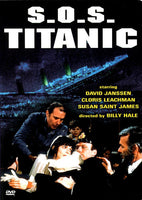 Sale
S.O.S. Titanic 1979 DVD (Region 1 - Playable in North America - The US, Canada, Mexico, etc.) Widescreen. Color. New price!

Starring: David Janssen, Cloris Leachman, Susan St. James, Helen Mirren, Ian Holm, David Warner, Harry Andrews, David Battley, Jerry Houser, Aubrey Morris, Norman Rossington. Written by James Costigan. Directed by William Hale.

The saga of the Titanic has captured the world's imagination for almost a century. Its story of greed, loss and survival remains as fascinating today as it did on that fateful, moonless night in April, 1912.
Long before James Cameron's blockbuster "Titanic," "S.O.S. Titanic" meticulously recreated the world's most lavish luxury liner and its sumptuous, gala atmosphere during the four-day journey leading to the disaster. 
"A new motion picture that tells the true story of the disaster the world cannot forget...as it's never been told before! The intimate loves of the victims and survivors. The heroism and heartbreak of the first - and last - voyage of the mightiest ship ever built! The "unsinkable" Titanic"