---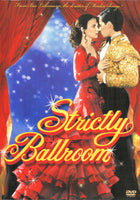 Strictly Ballroom (1992) DVD Shown in original aspect ratio 1.85:1 Approx. 94 min. Color (With optional subtitles) Region One - Playable in the US, Canada, Mexico, etc. Beautiful print!
Starring: Paul Mercurio, Tara Morice, Kris McQuade, Bill Hunter, Peter Whitford, Gia Carides, Craig Pearce, Pat Thomson, Antonio Vargas, Barry Otto Written by Baz Luhrmann (original idea) and (screenplay) Andrew Bovell (earlier screenplay) and Craig Pearce (screenplay) Directed by Baz Luhrmann
Delightfully entertaining comedy from Australia centers on the exciting world of ballroom dancing. Scott Hastings (Paul Mercurio) is a brilliant young dancer forced to find a new partner when his usual accomplice gets tired of his improvising. Scott chooses klutzy novice Fran (Tara Morice) to share steps. Together, these two misfits try to win the Australian Pan Pacific Championships and show the Ballroom Confederation that they are wrong when they say, "there are no new steps!
From Baz Lurhrmann (the director of the award-winning hits ELVIS, ROMEO & JULIET and MOULIN ROUGE!) -- comes STRICTLY BALLROOM ... the hilariously funny romantic comedy that's sure to leave you laughing, cheering, and feeling great! It's the magical story of a championship ballroom dancer who's breaking all the rules, and his ugly duckling dancing partner. Together they make their dreams come true! You're sure to enjoy this exhaustively funny comedy as it dances and soars its way straight into your heart. Critics everywhere fell madly in love with this big-screen treat -- and so will you!
 "There's something in the air. It might be love -- but it isn't."
 "A life lived in fear... ...is a life half lived."