---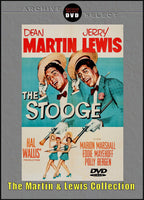 The Stooge 1951 B&W DVD (Region One - Playable in North America - the US, Canada, Mexico, etc.) Part of the Martin and Lewis Collection!

Starring: Dean Martin, Jerry Lewis, Polly Bergen, Marion Marshall, Richard Erdman and Frances Bavier. Written by Fred Finklehoffe, Martin Rackin, Elwood Ullman. Directed by Norman Taurog.
Dean Martin plays an obnoxious vaudeville singer named Bill Miller, who gets nowhere professionally until he is accidentally teamed with goofy would-be comic Ted Rogers (Jerry Lewis). Bill and Ted climb to the top of the showbiz heap with a riotous act wherein Bill's onstage singing is interrupted by Ted's heckling from the audience (not unlike Martin and Lewis' genuine nightclub act). As his fame grows, so does Bill's ego, and eventually he ditches Ted to strike out on his own. Without his partner, however, Bill is a failure, so it's up to faithful Ted to save the day and patch up the friendship.
It's worth noting that The Stooge was said to be Jerry Lewis' favorite Martin and Lewis comedy.
Part of the Martin and Lewis Collection - buy more than one item from the collection and receive a 10% discount!