---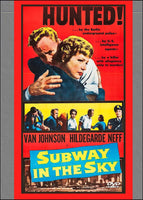 Sale
Subway in the Sky (1959) DVD Black and white Approx. 83 min. Shown in its original widescreen aspect ratio. Playable in the US, Canada, Mexico, etc. Digitally remastered. Beautiful picture and sound.

Starring: Van Johnson, Hildegard Knef, Albert Lieven, Cec Linder, Katherine Kath, and Vivian Matalon.
Written by Jack Andrews, Based on the book by Bruce Birch and the play by Ian Main, Produced by Sydney Box, Patrick Filmer-Sankey, John Temple-Smith Cinematography Wilkie Cooper Edited by Jean Barker Music by Mario Nascimbene Directed by Muriel Box
Berlin provides the backdrop for this crime drama that centers on a military doctor falsely accused of dealing illegal drugs. Determined to prove his innocence, he escapes from the MPs and ends up holing up in the apartment his wife rented. He doesn't know that she has sublet the flat to a nightclub singer. When he finds out, he begs the singer to assist him.
Brilliantly directed thriller by acclaimed female director Muriel Box.