---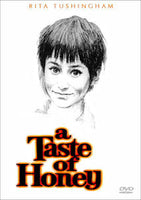 Sale
A Taste of Honey 1961 DVD (Region 1 - Playable in North America - The US, Canada, Mexico, etc.) Black & White.
Starring: Rita Tushingham, Robert Stephens, Dora Bryan. Directed by Tony Richardson.
Director Tony Richardson adapted the screenplay of A Taste of Honey from the "kitchen sink" stage play by Shelagh Delaney. Rita Tushingham plays a working-class British teenager, living with her drink-sodden, libertine mother Dora Bryan. Denied affection by her selfish mother, Tushingham is pushed further in the background when Bryan impulsively marries her latest boyfriend Robert Stephens. The girl takes a job at a shoe store, then moves in with her kindly homosexual employer Murray Melvin.
The two lost souls live in harmony until Tushingham becomes pregnant after a casual affair with black sailor Paul Danquah. Melvin comes to the rescue by offering to look after the baby. This relatively blissful state of affairs is short-lived; before long, Tushingham's hateful mother, having been kicked out by Stephens, descends upon her daughter and her "family," with all her debilitating emotional baggage intact.
A poignant denouement caps this riveting slice-of-life drama.