---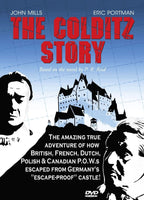 Sale
The Colditz Story 1955 DVD (Region 1 - Playable in North America - The US, Canada, Mexico, etc.) B&W Beautifully re-mastered.
Starring: John Mills, Eric Portman, Christopher Rhodes, Ian Carmichael, Lionel Jeffries, Bryan Forbes and Theodore Bikel. Written by Guy Hamilton, Ivan Foxwell, based on the novel "The Colditz Story" by P. R. Reid. Directed by Guy Hamilton
Based on a true story!
Colditz Castle was used by the Nazis to hold the "bad boys", (those POWs who regularly tried to escape from other prison camps). Nazi guards outnumbered the prisoners of various nationalities and because some political prisoners were also being held they were very strictly monitored. But if you put everyone who has been trying to escape in one place, well...

"What this all boils down to is that "The Colditz Story" is a great movie, a forerunner to "The Great Escape" in so many ways and just as entertaining." The British Picture Guide

"Excitement ! Suspense ! Action ! The stirring, amazing adventure of how British, French, Dutch, Polish and Canadian POW's escaped from Germany's 'escape-proof' castle !"