---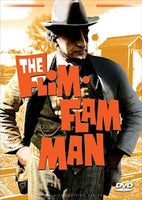 Sale
The Flim Flam Man 1967 DVD (Region 1 - Playable in North America - The US, Canada, Mexico, etc.) Widescreen. Color. New, lower price!

Starring: George C. Scott, Michael Sarrazin, Sue Lyon, Strother Martin, Slim Pickens, Harry Morgan, Albert Salmi, Jack Albertson, Alice Ghostley, George Mitchell. Written by William Rose based on the novel by Guy Owen. Directed by Irvin Kershner.

Michael Sarrazin plays Curley, a young man gone AWOL from the Army who soon makes the acquaintance of Mordechai (George C. Scott), a veteran confidence man. Mordecai takes a liking to Curley, and offers to show him the tricks of the trade as they drift through the American South, pulling one scam after another. But when Curley meets Bonnie Lee Packard (Sue Lyon), romance rears its head and Curley decides to go straight. Mordecai is not so easily convinced to leave his trade behind, however, and when a car theft goes spectacularly wrong and Mordecai ends up in jail, Curley has to pull a fast one to got his pal out of stir.
"The Flim-Flam Man is Flim-Fun! Meet Mordecai Jones; Master of Back-Stabbing, Cork-Screwing and Double-Dealing!"