---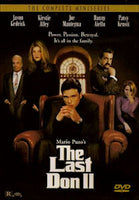 Sale
Mario Puzo's The Last Don II 1998 DVD (Region 1 - Playable in North America - The US, Canada, Mexico, etc.) Color. Complete Mini-series.
Starring: Jason Isaacs, Danny Aiello, Joe Mantegna, Michelle Burke, Conrad Dunn, Robert Wuhl, Alison Pill, Patsy Kensit, Kirstie Alley. Written by Mario Puzo and Joyce Eliason. Directed by Graeme Clifford.

The compelling final chapters in Mario Puzo's acclaimed crime saga hits with brute force as Don Domenico Clericuzio, on his deathbed, begs his nephew Cross to take over the family. Cross' return to the fold ignites an internal war from which only one man can emerge victorious.
"Power. Passion. Betrayal. It's all in the family."