---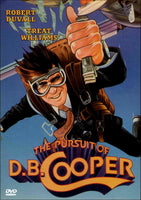 Sale
The Pursuit of D.B. Cooper DVD (Region 1 - Playable in North America: The US, Canada, Mexico, etc.) Widescreen. Color. New, lower price!

Starring: Treat Williams, Robert Duvall, Kathryn Harrold, R.G. Armstrong, Ed Flanders, Paul Gleason, Nicolas Coster, Dorothy Fielding, Howard K. Smith. Written by J.D. Reed (from his book "Free Fall") and Jeffrey Alan Fiskin. Directed by Buzz Kulik and Roger Spottiswoode.

Action-packed tale based on the true-life exploits of D.B. Cooper who hijacked a 727 and bailed out over Colorado with 200,000 dollars. This exciting film speculation explores the fate of the famous hijacker who parachuted with his ransom and disappeared in the mountains: Cooper follows a meticulous plan to disappear into anonymity despite the best efforts of a dogged cop.
"Who says you can't take it with you ?"