---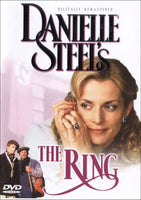 Sale
Danielle Steel's - The Ring 1996 DVD (Region 1 - Playable in North America - The US, Canada, Mexico, etc.) Complete Mini-Series. Color. Digitally re-mastered.
Starring: Nastassja Kinski, Michael York, Rupert Penry-Jones, Jon Tenney, Tim DeKay, Julie Cox.
Ariana Von Gotthard is the daughter of a wealthy Berlin man who witnesses the way her country is being torn apart in the run up to the Second World War. Her father decides to help his children escape from Germany, and after getting his son to Switzerland, he returns to Berlin for Ariana, but is executed as a traitor. Unsure as to the fate of both her brother and father, Ariana marries a German soldier who is killed in the war. She then flees to America with her unborn child and in New York attempts to build a new life, hoping that she will be re-united with her long-lost brother.