---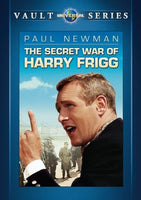 Sale
The Secret War of Harry Frigg (1968) DVD Region One 110 min. Color
Starring: Paul Newman, Sylva Koscina, Andrew Duggan, Tom Bosley, Charles Gray, Vito Scotti, James Gregory, Buck Henry, Norman Fell and John Williams. Written by Peter Stone and Frank Tarloff. Directed by Jack Smight.

Starring Paul Newman in one of his rare comedy roles, "The Secret War of Harry Frigg" tells the story of a good-for-nothing goldbrick whose only talent is escaping from the Army stockade. Sent behind enemy lines to free five Allied generals held prisoner in an Italian villa, Harry Frigg (Paul Newman) -hardly the dedicated type - becomes sidetracked from his zany mission by a sexy Italian Contessa (Sylva Koscina). He finally uses his talent to escape, and his new rank of Major General (Andrew Duggan) to create havoc in this wild, wacky and brilliantly satirical tale of World War II.
"It's not who you con. It's how you do it." – Harry Frigg
"The Secret War of Harry Frigg is an amusing World War II comedy starring Paul Newman as a dumb army private sent to rescue five Axis-held Allied generals. Strong story premise, excellent supporting cast…" – The Hollywood Reporter
"There are 5 Generals inside...and one Private outside...the problem was to get the 5 Generals inside outside...and avoid getting waylaid by a beautiful countess!"