---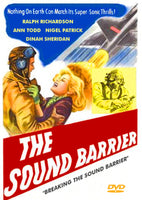 Sale
Breaking the Sound Barrier (aka The Sound Barrier) 1952 DVD  (Region One Playable in North America – The US, Canada, Mexico, etc.). Black & White.

Starring: Ralph Richardson, Ann Todd, Nigel Patrick, Dinah Sheridan. Director: David Lean.

David Lean directed this adaptation of the Terence Rattigan play. Ralph Richardson stars as a wealthy aircraft manufacturer John Ridgefield, who has high hopes for his new jet fighter, the "Prometheus". He approaches his son-in-law pilot Tony Garthwaite (Nigel Patrick) to help solve the problems faced by the then-new jet aircraft in encountering the speed of sound, the so-called "sound barrier." In an attempt to break the sound barrier, Garthwaite crashes and is killed. Shocked at the death of her husband and her father's single-minded and heartless approach to the dangers his test pilots face, Ridgefield's daughter Susan (Ann Todd) walks out on her father and goes to live with Jess (Dinah Sheridan), the wife of Philip Peel (John Justin), another company test pilot. Then Ridgefield approaches Peel with the challenge of piloting his test aircraft.
A brilliantly acted and scripted British aviation film with dazzling aerial sequences.