---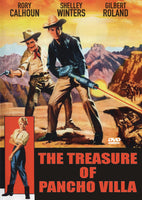 The Treasure of Pancho Villa (1955) DVD Color Shown in original Superscope aspect ratio (1.37:1/2.0:1) Approx. 91 min. Region One - Playable in the US, Canada, Mexico, etc.
Starring: Rory Calhoun, Gilbert Roland, Shelley Winters, Joseph Calleia, Carlos Mosquiz, Fanny Schiller and Tony Carbajal Written by Niven Busch (based on a story by J. Robert Bren and Gladys Atwater), Cinematographer: William E. Snyder Editor: Harry Marker Music: Leith Stevens Directed by George Sherman
The story is set in the Mexico of 1915 and focuses on two adventurers, the opportunistic American mercenary Tom Bryan (Rory Calhoun) and the gung-ho revolutionary Juan Castro (Gilbert Roland), as they fight among themselves over the treasure earmarked for Villa and the revolution. In the meantime, they are being pursued by the Federales.
Shelley Winters plays the surviving daughter of a copper mine owner who is rescued by revolutionaries Pablo Morales (Joseph Calleia) and his wife Laria (Fanny Schiller) and decides to become a revolutionary and joins the trek to Villa's lair.
It seems everyone has their own idea of where this king's ransom of gold should go and this leads to double-crosses, fistfights, gun-fighting, machete-waving, an avalanche and, in the end, to the dynamiting of the gold, the Federales, Castro and Bryan.
"Kill you for a woman, gringo? Never! But for the Gold…"