---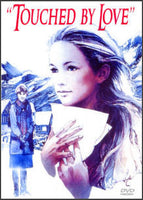 Sale
Touched by Love DVD (Region 1) Color. 1980. New, price reduction!

Starring: Diane Lane, Deborah Raffin, Michael Learned, John Amos, Mary Wickes, Cristina Raines, Clu Gulager. Written by Hesper Anderson, based on the novel "From Elvis with Love" by Leah Canada. Directed by Gus Trikonis.

This heartwarming real story stars Diane Lane as a handicapped child and Deborah Raffin as the dedicated woman who teaches her the power of love. Abandoned by her mother, Karen Brown (Lane), an isolated cerebral palsy victim, has grown up in a house for disabled children. All attempts to reach her have failed. But then, a young nurse's aide, Lena Canada (Raffin), becomes deeply involved in Karen's rehabilitation. Over the protests of her superior, Dr. Bell (Michael Learned), Lena devotes herself to bringing the child out of her shell. Eventually Karen finds an outlet for her emotions through a surprising pen pal - Elvis Presley. An incredible tale of personal triumph, Touched By Love will both move and inspire you.
"A true story. A courageous story. A love story that will touch you forever."
We will donate $5 from every sale of this DVD to the United Cerebral Palsy Organization https://ucp.org whose mission is: "To be the indispensable resource for individuals with cerebral palsy and other disabilities, their families and communities." To learn more about this disease please visit their website!