---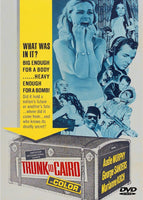 Sale
Trunk to Cairo 1965 DVD (Playable in North America – The US, Canada, Mexico, etc.) Color Widescreen Approx. 100 min.
Starring: Audie Murphy, George Sanders, Marianne Koch, Bomba Tzur, Elana Eden, Zalman. Written by Mark Behm and Alexander Ramati. Directed by Menahem Golan.
American Mike Merrick (Audie Murphy), posing as German Ludwig Baum, infiltrates the atomic laboratory of Professor Schlieben (George Sanders), who is attempting to create atomic missiles for the Egyptian army. Merrick falls in love with Schlieben's daughter Helga (Marianne Koch), who helps him defeat her father's efforts.
The film's title was inspired by an actual 1964 discovery at Rome Airport of a bound and drugged man inside a trunk sent from the Egyptian Embassy at Rome to Cairo, marked "diplomatic mail."
*An extremely rare Audie Murphy movie.  Very few prints of TRUNK TO CAIRO  exist. After an extensive search we found what we believe to be the best surviving elements. We are pleased to make this available here on DVD. The quality is good – but one should not expect state-of-the-art digitally re-mastered quality. We are proud to present TRUNK TO CAIRO, it is a treasure for those who truly wish to see this wonderful Audie Murphy film.
Part of the Audie Murphy Collection. Enter the word "AUDIE" at checkout when you buy two or more titles from The Audie Murphy Collection and receive a 10% discount on your order!