---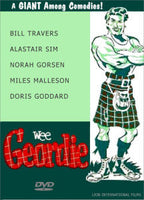 Sale
Wee Geordie DVD (aka Geordie) 1955 (Region 1 - Playable in North America: The US, Canada, Mexico, etc.) Color.
Starring: Bill Travers, Alastair Sim, Miles Malleson, Doris Goddard, Norah Gorsen, Paul Young, Duncan Macrae, Stanley Baxter, Michael Ripper. Written by Sidney Gilliat and Frank Launder from the novel by David Walker. Directed by Frank Launder.

Set in the "past and present, with a wee glimpse into the future," this comic tender tale of a youngster's rise to fame is photographed against the picturesque Scottish highlands. Young Geordie (Paul Young) is a frail lad who takes a ribbing from his schoolmates because of his size, or lack of it. After seeing a muscleman ad in a magazine, he begins to get himself into shape, and, as he enters manhood (now played by Bill Travers), his pains begin to pay off when he is selected for Britain's Olympic squad in the hammer-throwing event. Leaving his local lassie (Norah Gorsen) behind, Geordie heads for the Olympic games in Australia, where a muscular Danish damsel, Helga (Doris Goddard), pounces on her reticent co-competitor. A classic whimsy with a characteristically fine performance from the great Alastair Sim as the laird who employs Geordie's gamekeeper father.
"A Giant Among Comedies! What "The Quiet Man" Did for the Irish..."Wee Geordie" Does for the Scots... "