---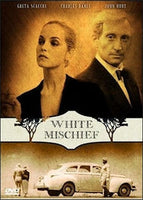 Sale
White Mischief DVD 1987 (Region 1 - Playable in North America - The US, Canada, Mexico, etc.) Widescreen. Color. New, lower price (limited time).

Starring: Greta Scacchi, Charles Dance, Joss Ackland, Sarah Miles, Geraldine Chaplin, John Hurt, Ray McAnally, Murray Head, Trevor Howard, Susan Fleetwood, Hugh Grant, Gregor Fisher. Written by Jonathan Gems and Michael Radford from the novel by James Fox. Directed by Michael Radford.

A brilliant, tantalizing, and riveting whodunit. Take a desperate group of expatriates, the blazing beauty of Kenya in 1940 and the volatility of passions unchecked in extra marital affairs and the result is murder of the Earl of Erroll in Kenya's British colony known as Happy Valley during the 40's in this very true account of a steamy story. Based on one of the most scandalous murders in British history, White Mischief transpires in Kenya at a time just before the beginning of World War II. Jock Broughton (Joss Ackland) is a wealthy rancher who becomes taken with a young gold-digger named Diana (Greta Scacchi). Even though he is fully aware of her reasons for doing so, the pair wed. Broughton falls on hard times and loses his fortune. The hedonistic Earl of Erroll (Charles Dance) realizes this change of fortune may make Diana more open to engaging in an affair. One evening, Erroll is found murdered. Broughton is tried for the crime.
Director Michael Radford would not helm another film for seven years, but returned with the international hit "Il Postino" in 1994.
"In England they were the elite, but bound by rules of society. In Kenya there were no rules, only glamour, decadence . . . and murder."