---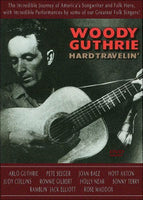 Sale
Woody Guthrie - Hard Travelin' DVD 1984 (Region 1 - Playable in North America, the US, Canada, Mexico, etc.) Documentary. Color/B&W.
Featuring: Arlo Guthrie, Pete Seeger, Joan Baez, Hoyt Axton, Judy Collins, Ronnie Gilbert, Holly Near, Sonny Terry, Ramblin' Jack Elliott, Rose Maddox. Directed by Jim Brown.

A truly rare experience. This one-of-a-kind documentary on the life of Woody Guthrie (This Land Is Your Land, So Long It's Been Good To Know You) is led by his son Arlo, who traces his father's journey from his roots in the Oklahoma hills to an odyssey of wanderlust spent telling America's story through his songs. Along the way, we are serenaded by a series of folk legends lending their talents to Woody's uplifting music, often accompanied by Arlo in informal settings. Eventually Woody's road led to a dark Shakespearean descent into the afflictions of the inherited disease that would end his days.
This is a stark and moving testament to the man Pete Seeger calls "America's greatest songwriter".
Songs include (in part or whole):
"Oklahoma Hills" - Arlo Guthrie
"The Philadelphia Lawyer" - Rose Maddox
"Deportees" - Hoyt Axton
"Roll, Columbia, Roll" - Bill Murlin
"Pastures of Plenty" - Holly Near and Ronnie Gilbert
"Stickin' to the Union" - Pete Seeger and Arlo Guthrie
"Good Reuben James" - Pete Seeger and Arlo Guthrie
"Hard Travelin'" - Ramblin' Jack Elliott
"Car Song" - Joan Baez and Arlo Gurhtie
"Lonesome Valley" - Joan Baez
"Hobo's Lullaby / The Land is Your Land" - Arlo Guthrie and Pete Seeger