---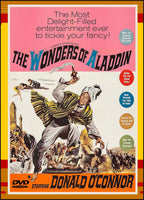 Sale
The Wonders of Aladdin (1961) DVD (Region 1 - Playable in North America - The US, Canada, Mexico, etc.) Full-frame Approx. 100 min. Color
Starring: Donald O'Connor, Noëlle Adam, Vittorio De Sica, Aldo Fabrizi, Michèle Mercier and Terence Hill. Written by Luther Davis from the story by Stefano Strucchi and Duccio Tessari. Directed by Mario Bava and Henry Levin.
Aladdin (Donald O'Connor) is a poor young man living in ancient Bagdad, who is given to flights of imagination, and taken with tales of the wealthy and powerful -- in many ways, he's still a boy, and so caught up in his daydreaming that he doesn't realize how his one-time childhood playmate Djalma (Noelle Adam), now a grown young woman, loves him (even if her merchant father thinks he's a worthless loafer). In a moment of indulgence, his mother buys Aladdin an old lamp so that he can have light at night "like a rich man." He accidentally discovers that the lamp contains a genie (Vittorio De Sica), who will grant him three wishes -- but he is so scatterbrained, that he can't figure out exactly how he called the genie in the first place.
 "Meet The Amazing Genie Of The Lamp! Battle The Evil Grand Vizier! Walk Through The Field Of Nails! Beware The Dancing Doll Of Death! Ride The Princely Caravans! Rub the magic lamp and watch the entertainment begin!"