---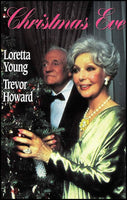 Christmas Eve DVD (1986) TV Miniseries Region One (Playable in North America – The US, Canada, Mexico, etc.) Color
Starring: Loretta Young, Trevor Howard, Arthur Hill, Ron Leibman, Season Hubley, and Patrick Cassidy. Written by Arch Oboler, Blanche Hanalis and Richard H. Landau. Directed by Stuart Cooper.
Loretta Young stars as Amanda Kingsley, a wealthy New York matriarch who learns that she is dying. This strengthens her determination to be reunited with her three grandchildren, whom she hasn't seen in 16 years thanks to a bitter argument with her avaricious son Andrew (Arthur Hill). As Andrew wages a court campaign to have his mother declared incompetent and thus get control of her millions, private eye Morris (Ron Leibman) races against time to locate her lost grandkids before Christmas.
 Winner of a Golden Globe for Loretta Young.
Nominated for Golden Globes for both Rob Leibman and Trevor Howard and for Best Miniseries.
* Very few prints of CHRISTMAS EVE exist. After an extensive search we found what we believe to be the best surviving elements. We are pleased to make this available here on DVD. The quality is not excellent – and one should not expect state-of-the-art re-mastered quality - but it is a treasure for those who truly wish to see this wonderful and heartwarming holiday film.