---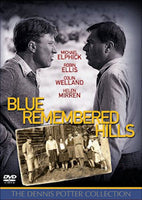 Sale
Blue Remembered Hills 1979 DVD (Region 1 - Playable in North America - The US, Canada, Mexico, etc.) Color.
Starring: Michael Elphick, Helen Mirren, Robin Ellis, Collin Welland, John Bird, Janine Duvitski. Written by Dennis Potter. Directed by Brian Gibson.

"When we dream of childhood we take our present selves with us. It is not the adult world writ small; childhood is the adult world writ large" - Dennis Potter.
On an idyllic afternoon in the summer of 1943, a group of children play in the West Country hills, fields and forests. With no adults around, they indulge in spontaneous games and horseplay - sometimes echoing the distant war, at other times revealing their own insecurities and petty vindictiveness. But as they tease, fantasize and fight the day away, their innocence is about to be destroyed forever...
Starring a wealth of British acting talent including Michael Elphick, Robin Ellis, Colin Welland and Helen Mirren.
Dennis Potter's acclaimed television play (part of the "Play for Today" series) - though the most straightforward and realistic of his popular works - is both an hilarious and incredibly moving story. Through the simple act of using adults in the roles, Potter was able to emphasize the darker aspects of children's innocence and imagination, creating an altogether more complex and ambivalent picture of that "land of lost content".
Region One. North American Format.