---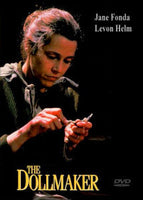 Sale
The Dollmaker 1984 DVD (Region 1 - Playable in North America - The US, Canada, Mexico, etc.) Color.
Starring: Jane Fonda, Levon Helm, Phyllis Boyens, Amanda Plummer, Geraldine Page, Robert Swan, Susan Kingsley, Anne Hearn, Dan Hedaya, Christine Ebersole, Studs Terkel, Sheb Wooley. Written by Susan Cooper and Hume Cronyn, based on the novel by Harriet Arnow. Directed by Daniel Petrie.

The unforgettable and heartbreaking story of the Nevels family and their quest to preserve their deep-rooted values amidst the turmoil of war and industrialization. When Gertie Nevels, a strong and self-reliant matriarch, follows her husband to Detroit from their countryside home in Kentucky, she learns she will have to fight desperately to keep her family together.
A hardscrabble film full of vividly drawn characters and masterful scenes, this is a passionate tribute to a woman's love for her children and the land.