---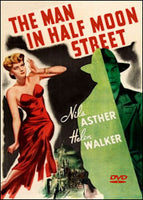 Sale
The Man in Half Moon Street 1945 DVD (Region One Playable in North America – The US, Canada, Mexico, etc.) Black and White. New, reduced price!

Starring: Nils Asther, Helen Walker, Reinhold Schunzel, Paul Cavanagh, Morton Lowry, Edmund Breon, Brandon Hurst, Ernie Adams. Written by Garrett Fort, Charles Kenyon, Barre Lyndon. Directed by Ralph Murphy.

A scientist who has found a way to prolong life (he is 120 years old) finds himself in a dilemma: he has fallen in love, and he has also discovered that if he doesn't get new glands, he will die.
" One Man...Was He Lover or Murderer? THE SECRET OF HIS LIFE EXPOSES THE WEIRDEST LOVE STORY EVER TOLD! "