---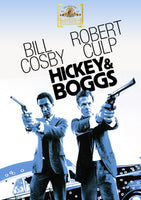 Sale
Hickey & Boggs 1972 DVD (Region 1 - Playable in North America - The US, Canada, Mexico, etc.) New lower price!

Starring: Bill Cosby and Robert Culp. Directed by Robert Culp. Written by Walter Hill.
This unexpectedly gritty film from Robert Culp and Bill Cosby is light years away from their popular "I Spy" series. As two low-end private eyes, searching for a missing girl, they find themselves involved with vicious criminals and precipitating a string of deaths. Neither has ever been more effective on screen before. An interesting, atypical contrast of styles in their acting; Cosby plays it humorless, (in a realistic, lived-in fashion, not a tough guy caricature) while Culp is alternates several nice modes for his character.