---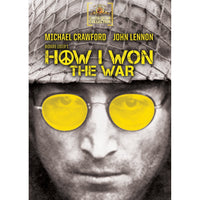 Sale
How I Won the War 1967 DVD (Region 1 - Playable in North America - The US, Canada, Mexico, etc.)
Starring John Lennon, Michael Crawford, Roy Kinnear, Jack MacGowran, Michael Hordern, Alexander Knox, Robert Hardy, Peter Graves, Neil Aspinall. Written by Charles Wood from the novel by Patrick Ryan. Directed by Richard Lester.
John Lennon stars in his first film performance in this hilariously surreal collage of battle footage and one-liners lampooning the absurdity of the war.  An inept British World War II commander leads his troops through a series of misadventures in North Africa and Europe.

For a limited time, How I Won the War Special Edition.  The feature has been remastered for this DVD release with supervision from Richard Lester (Director), and John Victor-Smith (Editor). Now you can bring home John Lennon's only non-Beatles performance in a feature film.