---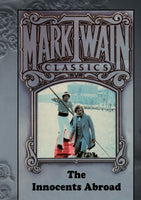 The Innocents Abroad (1987) Color Approx. 116 min. (Region One - Playable in the US, Canada, Mexico, etc.)

Starring: Craig Wasson, Brooke Adams, David Ogden Stiers, Luigi Proietti, Barry Morse, Gigi Proietti. Part of The Great Performances series. Written by Dan Wakefield Based on The Innocents Abroad by Mark Twain. Produced by William Perry and Jane Iredale. Directed by Luciano Salce
With "The Innocents Abroad", you have the unexpected pleasure of seeing the world through the eyes of the one and only Mark Twain. Craig Wasson plays the droll Twain who is assigned a story on his "Grand Tour" of the continent for a San Francisco newspaper. He's soon joined by irrepressible Brooke Adams and David Ogden Stiers who are his riotous traveling companions on the journey to the world's greatest sites. This film superbly captures the timeless wonders of Italy, France, Greece and Egypt, as well as, the incomparable wit and vision of Mark Twain.
Great for the classroom!
*Very few prints of The Innocents Abroad exist. After an extensive search we found what we believe to be the best surviving elements. We are pleased to make this available here on DVD. The quality is not great – and one should not expect state-of-the-art re-mastered quality - but it is a treasure for those who truly wish to see this wonderful adaptation of Mark Twain's wonderful, insightful and very funny work.