---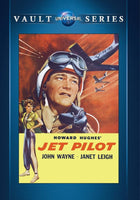 Sale
Jet Pilot 1957 DVD (Region 1 - Playable in North America - The US, Canada, Mexico, etc.) Color 113 min.
Produced by Howard Hughes ("Hell's Angels") and directed by Josef von Sternberg ("Blonde Venus").
Starring John Wayne, Janet Leigh, Jay C Flippen, Hans Conried and Paul Fix.
John Wayne and Janet Leigh star in the thrilling and often humorous Cold War adventure.
Wayne gives one of his most commanding performances as a high-flying American Air Force colonel who is sent by the Pentagon to obtain top secret information from a Russian lady pilot (Janet Leigh). The two eventually fall in love and, with their marriage as a perfect cover, the colonel is ordered to flee to Russia with his bride - this time with him posing as a defector. When the political charade is discovered, however, the courageous couple embarks in a dangerous flight to freedom in a heart-pounding escape with enemy agents in hot pursuit.