---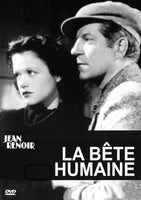 La Bete Humaine (La bête humaine) 1938 (DVD) Shown in original 1.37: 1 aspect ratio Approx. 95 min. Black and white Region One - Playable in the US, Canada, Mexico, etc. Beautiful print! In French with easily accessible optional subtitles in English.
Starring: Jean Gabin, Simone Simon, Fernand Ledoux, Blanchette Brunoy, Gérard Landry, Jenny Hélia, Colette Régis, Claire Gérard, Charlotte Clasis, Jacques Berlioz, Tony Corteggiani, André Tavernier, Marcel Pérès, Jean Renoir, Julien Carette. Based on " La Bête humaine" 1890 novel by Émile Zola. Screenplay by Jean Renoir and Denise Leblond. Directed by Jean Renoir.
Jacques Lantier (Jean Gabin) is a train engineer who is prone to violent seizures, a condition he attributes to his forefathers' habit of excessive drinking. Roubaud (Fernand Ledoux) is a train conductor on the same railroad that Lantier works on, married to the much younger Séverine (Simone Simon). When Roubaud catches wind of his wife's affair with her godfather, the wealthy M. Grandmorin (Jacques Berlioz), he kills him during a train journey in a fit of jealousy. He makes sure that Séverine is also present, making her an accomplice to murder. Lantier, despite having witnessed them quite clearly in the train corridor, hides the fact during the investigation as he is attracted to Séverine. They both begin an affair, all the while Roubaud becomes increasingly withdrawn and starts to gamble. Séverine urges Lantier to kill her husband so that they would be free, but she is unaware of Lantier's unfortunate condition.
"From the novel "La Bete Humaine" a drama of consuming passions, directed by Jean Renoir."