---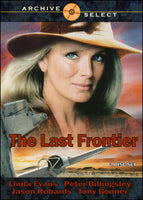 Sale
The Last Frontier (1986) Color Complete TV series DVD Region One (Playable in the US, Canada, Mexico, etc.) Beautifully re-mastered.
Starring: Linda Evans, Jack Thompson, Peter Billingsley, Meredith Salenger, Jason Robards, Judy Morris, Beth Buchanan, Asher Keddie, Tony Bonner, John Ewart and Leslie Dayman. Written by Hal McElroy, Michael Laurence, John Misto. Directed by Simon Wincer.
A single mother (Linda Evans) from Los Angeles marries an Australian cattle rancher (Tony Bonner) following a whirlwind courtship. He returns to Australia ahead of her and her two children, and dies before they arrive. His widow is left with a debt-ridden ranch during one of the worst droughts in Australian history. In addition, she has land-grabbing neighbors (Jason Robards and Judy Morris) to contend with. Directed by Simon Wincer (Lonesome Dove, Against the Wind, The Lighthorsemen, Quigley Down Under)
The miniseries was filmed on location the outback of the Northern Territory, and South Australia except for the Los Angeles scenes which were filmed in that city. The fictional Larapinta and Cutta Cutta stations were filmed on outback locations. The name of Larapinta is derived from an aboriginal word that means "salty river" while Cutta Cutta means "many stars".
Great Australian mini-series! A must see!
"An American woman's courageous struggle to carve out a new life for herself and her family amid the harsh splendour of Australia's Great Outback!"