---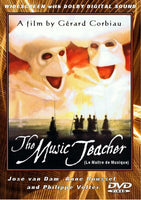 Sale
The Music Teacher (Le Maître de Musique) 1988 DVD Region One - Playable in the US, Canada, Mexico, etc. Approx. 98 min. Color in French with English subtitles, Widescreen with Dolby Digital sound.
Starring: José van Dam, Anne Roussel, Philippe Volter, Sylvie Fennec and Patrick Bauchau. Written and directed by Gérard Corbiau
Opera singer Joachim Dallayrac (José van Dam) has shocked the world by announcing his retirement from the stage. In lieu of his singing career, Dallayrac has decided to move to the countryside to coach two young vocalists: Sophie (Anne Roussel), a friend of one of his nieces, and Jean (Philippe Volter), a pickpocket from the market square. Eventually Dallayrac's singers are ready to enter an international competition, but the event is being staged by an old rival.
The film was nominated for the Academy Award for Best Foreign Language Film at the 61st Academy Awards.
"Every scene and object, from the concert halls to Sophie's shimmering diamond earrings, is lyrically photographed. And it sounds glorious." - The New York Times